Personal Learning Relationships Are Key at the Brunner Literacy Center
The Brunner Literacy Center (BLC) is committed to helping adults achieve their goals and dreams. Our student success is rooted in the personal learning relationships that students and tutors develop through one-on-one tutoring and flexible, individualized learning. Thanks to the Brighter Tomorrow Foundation, the BLC is able to offer more learning choices for Rick and other adults who struggle with basic literacy skills.
Each week, Rick and his tutor, Sandy, prove that learning can be fun when explored with the right support. Rick is working to improve his reading and writing skills so that he can engage more fully in society. Literacy has been an ongoing journey for Rick since a brain injury at age five impacted his ability to process information. Rick's determination is unparalleled, and his hard work yields fruitful progress - and lots of laughter - with his dedicated tutor, Sandy.
Healthy Habits Cook Club
Healthy Habits Cook Club's mission is to help adults with developmental disabilities to be healthy, independent and social by connecting through food. We have recently expanded our services to provide cooking classes to adults living in group homes. Cooking classes are also being provided to the staff who are responsible for meal planning, shopping and preparation of meals in the group homes. Through the generous support of The Brighter Tomorrow Foundation portable induction burners and induction-ready skillets were purchased for these classes.
Learning Tree Farm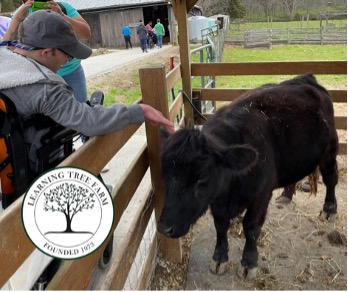 After 49 years of providing nature-based education to children and families throughout the Miami Valley, Learning Tree Farm has installed concrete paths and handicapped parking so those who use wheelchairs can have access to the outdoors. The concrete paths run from the parking lot to the most visited locations throughout the farm like the barns with our animals, fire ring, shelter house, restrooms, and to the entrance of the garden.  We have also purchased a wheelchair accessible picnic table and will soon be purchasing and building an accessible, raised garden bed. The next step in our project is the building of an equipment barn to provide accessible programming in our historic bank barn, and meeting with DDS to restructure our educational programs and ensure meaningful interactions at our farm for those who experience disabilities. This is phase one of our overall accessibility project which we hope to expand in the future to also provide a path throughout our garden and into the wooded paths.  Thank you so much to the Brighter Tomorrow Foundation for your support in making this project possible for Learning Tree Farm and those with disabilities who love to visit the farm.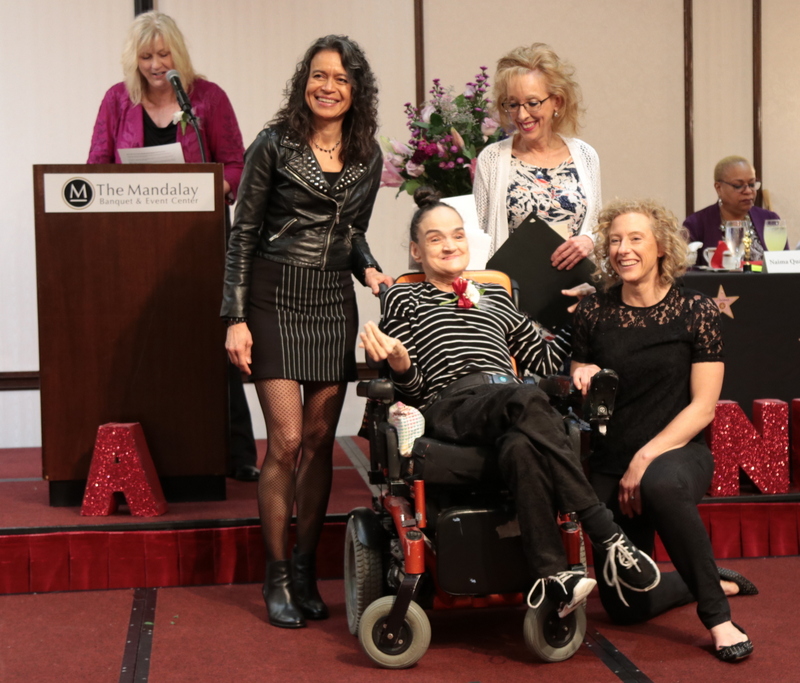 Montgomery County Board of Developmental Disabilities Services - DD Hall Of Fame
Each April for the last 31 years, the Montgomery County Board of Developmental Disabilities has held a gala to recognize the talents and contributions of people with developmental disabilities.  Known as the Developmental Disabilities Hall of Fame and Erin Ritchey Memorial Awards Banquet, this gathering represents the premier celebration of the accomplishments of people with developmental disabilities in Montgomery and Greene counties, from art and advocacy to athletics, community service, employment and personal accomplishment.  The event also provides individuals with disabilities and their families an opportunity to recognize the people and organizations who provide assistance to the DD community.  A grant from the Brighter Tomorrow Foundation helps underwrite the cost of this important and much-anticipated gala.
Access Through Technology – United Rehabilitation Services (URS)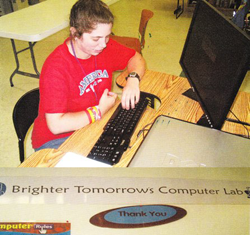 The internet opens many doors for the developmentally disabled
In the 2009 grant process, United Rehabilitation Services received funds to assist some of its adult clients to obtain or improve computer skills and achieve internet access. This grant was especially directed at assisting clients who are blind or have low vision and clients with motor or cognitive disabilities.
Through the new computer and software paid for by the BTF grant, URS clients were able to achieve better job seeking skills, better access to the vast resources of the internet, and to improve their written communication skills. Up to six months of training was provided by URS staff to 21 clients who were suited to this type of learning experience.
Partners Venturing Crew – Choices In Community Living

New adventures, new opportunities and new friends...just some of the ways grants from The Brighter Tomorrow Foundation have supported Partners Venturing Crew (BSA Scouts). The Crew includes both men and women members from Choices In Community Living and Resident Home Association. They have their own Scout shirts, are earning badges and, best of all, they continue to participate in integrated activities with Scouts from throughout our region.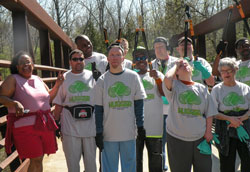 Brighter Tomorrow funds have helped them purchase cooking and camping equipment to use when they attend Camporees and have supported various Camporee activities. Funds have also supported a range of trips and activities. They participate in volunteer projects in support of their community. They enjoy their role as teachers and leaders, teaching younger Scouts about things like tomahawk throwing and building campfires. What they enjoy most is teaching young Scouts that people with disabilities are just like everyone else, including being the best Scouts possible.
---
You can help deserving individuals like those in these stories.
Send your contribution to the Brighter Tomorrow Foundation, 500 Kettering Tower, Dayton, OH 45423, or find our on-line gift form by clicking here.