Access Through Technology – United Rehabilitation Services (URS)
The internet opens many doors for the developmentally disabled
In the 2009 grant process, United Rehabilitation Services received funds to assist some of its adult clients to obtain or improve computer skills and achieve internet access. This grant was especially directed at assisting clients who are blind or have low vision and clients with motor or cognitive disabilities.
Through the new computer and software paid for by the BTF grant, URS clients were able to achieve better job seeking skills, better access to the vast resources of the internet, and to improve their written communication skills. Up to six months of training was provided by URS staff to 21 clients who were suited to this type of learning experience.
Keeping Families Strong – Help Me Grow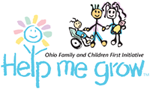 Families with a child who has a developmental disability experience many stresses along with joys in their day-to-day existence. Besides daily accommodations for a child with special needs, there are unexpected pressures and tensions that often occur within marriage and family relationships. Some local organizations are focusing on these family-related issues to help build and maintain strong families. Families who tap into these excellent community resources not only provide a loving and nurturing environment for their child with special needs, but also come to know other parents with similar challenges and find meaningful support in their efforts to keep family life as normal as possible.
Read more here about how Help Me Grow used its BTF grant to help families and kids.
The Best Things in Life – Choices in Community Living

Those moments of satisfaction and gratification are sometimes a challenge to capture for our BTF benefactors, but they are very real and very important. This article provides a glimpse into a few lives that were brightened and enhanced by BTF grants made to Choices in Community Living. Executive Director Tom Weaver and Director of Development Judy Leasure offered some insights to help us appreciate how the grants made a difference to people they serve.
Click here to read about how a BTF grant brought satisfaction to some CCL clients.
---
You can help deserving individuals like the three sisters and others in these stories. Send your contribution to the Brighter Tomorrow Foundation, 500 Kettering Tower, Dayton, OH 45423, or find our on-line gift form by clicking here.