The Best Things in Life:
Choices in Community Living
Recently, a BTF grant paid for some furnishings for several residents with developmental disabilities, some living independently and others in a group residence. In the group home, the BTF grant was a catalyst for more extensive rehab of a group residential facility. Since no one wanted to see the new sofa and beds delivered to a home that was in obvious need of fresh paint and new floor coverings, Choices for Community Living, through MRDD, obtained funds for sprucing up walls and floors.
Soon, the new furniture was delivered to the Olive Road group residence including a sofa and love seat, arm chair and coffee table, along with new beds and fresh bedding. The pride of the residents is reflected every day by the pleasure they take in their new surroundings. It is important to the residents—and to the staff dedicated to their care—that they enjoy a standard of living that reflects that of the larger community. It helps everyone live out the philosophy and belief that each is a quality person, valued and respected by others.
From the same grant, three sisters with developmental disabilities living together in an apartment each received a new mattress, box spring, and chest of drawers. Two new nightstands completed the bedroom updates. The sisters, who work to help support themselves, nevertheless have very limited financial means. They are deeply appreciative of the new furniture and their gratitude is reflected in their bright smiles and their eager desire to show it off to visitors.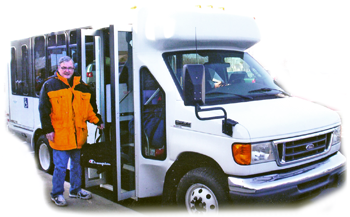 Choices for Community Living has a daily responsibility for transporting many of its clients for a variety of purposes ranging from grocery shopping and doctors' appointments to recreation and family visits. BTF's 2008 grant of $10,000 capped Choices efforts over several years to raise funds for an accessible van. The new vehicle logs about 70 to 80 miles per day including taking many clients for recreation and exercise at the Englewood YMCA. This partnership with the Englewood YMCA helps many individuals stay fit with exercise and swimming while taking part in the everyday life of the community.
With state funds now being mostly limited to staff costs, it's more important than ever for agencies that serve persons with developmental disabilities to have other funding options available. Brighter Tomorrow Foundation remains dedicated to addressing this funding gap with our continuing annual grant program.